Your body language shows whether you are listening to the other person or believe what they are saying. One simple way to build a strong relationship is through eye contact. When people avoid making eye contact, it makes them seem shifty, uncomfortable, or dishonest.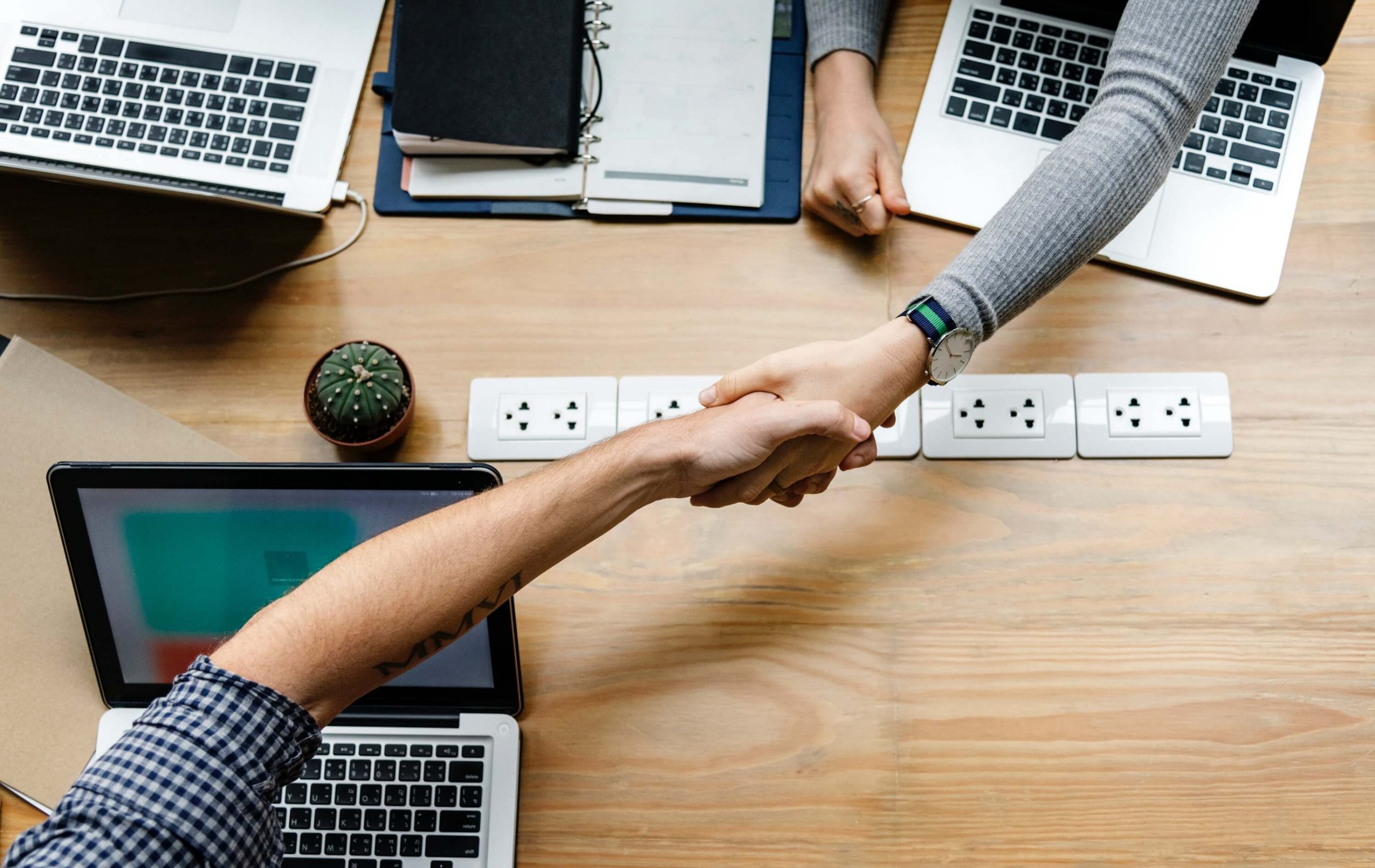 Quick & Easy Ways to Build Trust in the Workplace
Your ability to motivate your employees is built entirely on trust. Your employees must believe in you and be confident in your decisions so they can do their best work. By creating an environment of trust in the workplace, you make it more likely that employees will be committed to reaching their peak potential.
There are simple ways of building trust like doing what you say you will do, but you'll also find a range of more detailed tactics to improve their faith in you. An employee's trust in their superior greatly influences their perception of the company. If there is a disconnect between what you do and say, your employees will not be as engaged in their work.
Trust is important because your success or failure is often based on your relationships. Every professional relationship should be built on a foundation of trust. For you to agree on a solution or reach a compromise, this confidence will be a key factor.
Get work done without stress
When you have trust in the workplace, you improve morale among your employees and team members. You also reduce the amount of time it takes to solve problems and discuss issues during meetings. As a result, you can work effectively as a team and boost your team's productivity.
Trust is built from the top, down. For your employees to be committed to doing their best work, they have to trust in you. By adopting the following twelve techniques, you can quickly build trust and inspire your team to put forth their best work.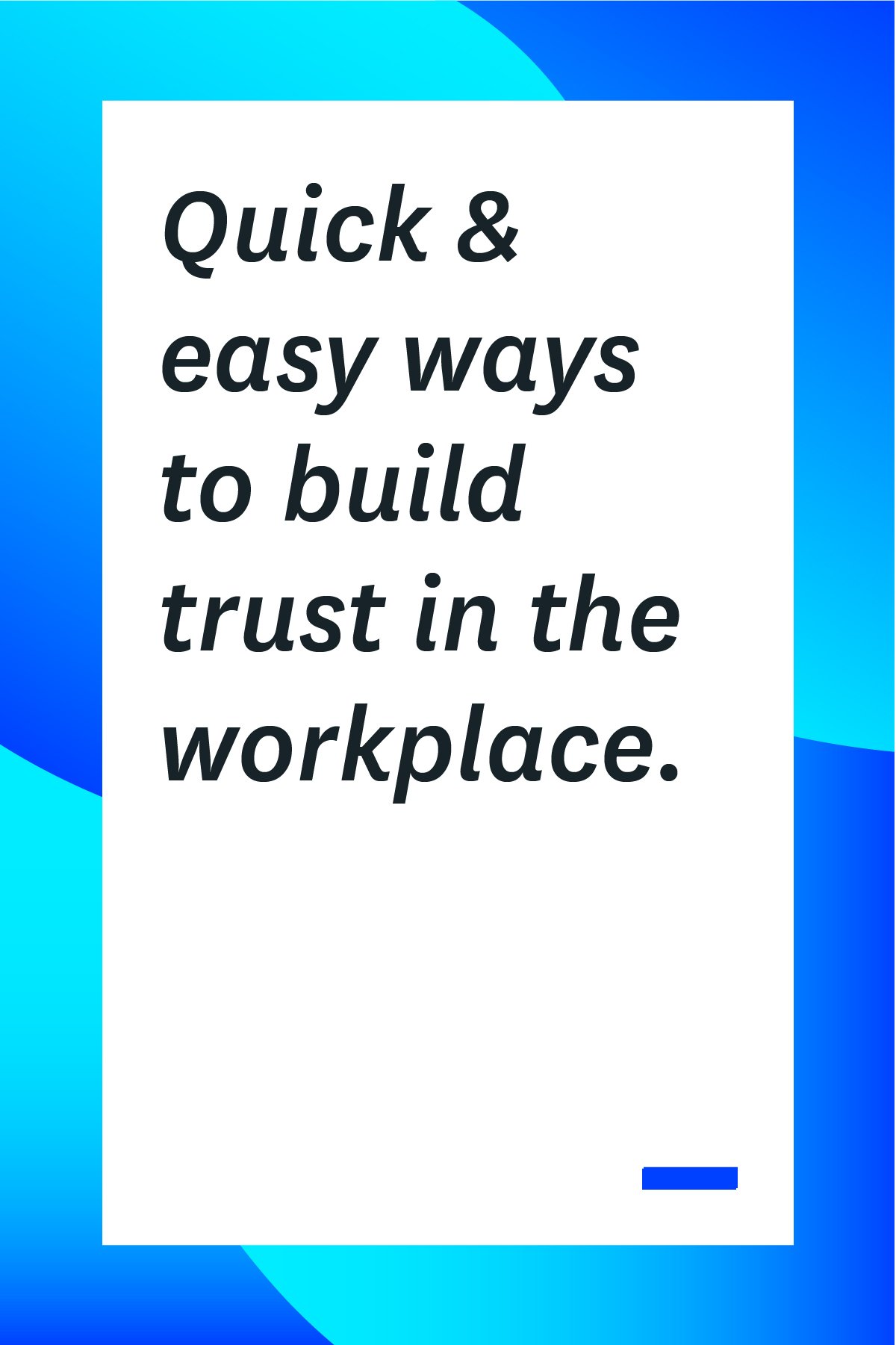 Types of trust in the workplace
Practical trust: You earn this kind of trust by being a hard-working employee, showing up on time and meeting deadlines. Earning this kind of trust will get you the reputation of being someone who's reliable and competent. When you say you'll do something, you actually do it. Without this kind of trust, others may micromanage you. Communication can break down, and productivity will fall.
Emotional trust: You create emotional trust by doing more than what's expected of you, and creating meaningful bonds with your team. It requires a level of emotional intelligence since it's more about networking and building relationships..
How does trusting your teammates help you do your job?
Marco Rogers: Most important projects take more than one person to accomplish. While the urge is strong to do a lot yourself, trusting your coworkers is about letting go of that urge. Many important tasks require multiple people's effort, and oftentimes you must rely on other people to accomplish their tasks for you to complete yours. This creates a lot of stress in most workplaces, because you have limited visibility. Sure, hierarchies were created to force compliance, but compliance will only get you so far. Dan Pink highlights autonomy as a key motivator; autonomy is only possible where there is trust.
Individuals who trust each other don't expend as much of their time and energy watching their backs. They often redirect that energy towards productivity and innovation for the company.
When individuals are given the trust to execute, they are more likely to become engaged with company and align more with its mission. A team with high trust motivates its members t retain that trust through excellence.
Managers who don't trust their reports spend a lot of time on processes, reviews and sanctions. Employees respond to this stifling environment with apathy and reduced productivity. In environments of trust, managers can instead spend their time finding and clearing roadblocks from their team, inspiring employees to share more and work together to identify and solve pain points.
How to build trust
If you want to be part of a team where your coworkers appreciate your work, feel comfortable coming to you for help and where productivity is high because everyone works together well, it's important to build trust first. Here are 14 actionable steps to boost trust with your managers and coworkers.
1. Follow through on promises
An easy way to build trust is by following through on doing what you say you will. If someone is relying on you to perform a task or finish a project, you could break their trust by not completing what you should. If you know you can't do something because you either lack the know-how or time, be honest and upfront with your teammate so you don't end up overpromising and underdelivering.
2. Communicate with coworkers
Another way to build trust is by communicating effectively with your coworkers via email or in person. Practice standard email etiquette to make sure your email is professional, yet easy to understand and friendly. Be mindful of the tone you use so you don't send the wrong message to your recipient.
When engaging in face-to-face conversations, pay special attention to your body language and tone of voice as both can influence how your coworkers interpret your words and react to what you're saying. Actively listen so they know that you value their words.
3. Become a mentor
If you have something to offer in a mentorship capacity, speak with your manager about the opportunity to take on the role. You can mentor newcomers to the company or current coworkers who would benefit from training on a tool or office process. If you're mentoring a new hire, you have the opportunity to establish trust by showing them around the office and introducing them to how your workplace functions. They'll come to rely on you to help them navigate their new role.
Another benefit is when your coworkers see your mentorship abilities, you'll build trust with them, too. Through viewing how you work with others, they may then feel more confident in your working relationship.
Ways to Build Trust in the Workplace
Even though the importance of trust in the workplace appears to be self-evident for most organizations, many are still unsure how to achieve it. Remember, one in three people don't trust their employer.
The thing is, business leaders are now facing new challenges: building trust when teams are geographically dispersed. Indeed, remote work has become the new normal, which leads organizations to adjust their strategies.
1. Encourage employees' share of voice
58% of employees believe they themselves are responsible for ensuring they have a successful career. Yet 63% of employees say that employers have "too much power and control over their professional lives and well-being".
In order to fix this issue, employers must give employees a voice, create opportunities for shared actions and empower them with information. It is important that employees feel like they can speak up about important issues, their needs and concerns without being held back.
The biggest mistake that employers make is practicing one-way communication with their employees. Meaning they send out newsletters to inform their employees without giving them an opportunity to join the conversation and share their voice.
2. Create a better company culture with open and transparent employee communications
IBM conducted a study of over 1,700 CEOs from 64 countries and 18 industries. One of the major findings is that companies that outperform their peers are 30% more likely to identify openness as a key influence on their organization.
Unlike organizations with many hierarchical levels and closed company culture, today's successful CEOs are intentionally incorporating openness and transparency into their workplace cultures.
Transparency is showing accountability through communication. Being honest, vulnerable, giving frequent feedback, setting expectations and keeping employees informed and connected are all forms of transparency. Without transparency, people tend to make up their own truth about something, which may lead to extensive misinformation in the workplace, where people feel frustrated and left out.
References:
https://toggl.com/blog/build-trust-in-the-workplace
https://www.indeed.com/career-advice/career-development/building-trust#:~:text=Building%20trust%20is%20important%20because%20it%20builds%20commitment,,developed%20through%20values,%20hard%20work%20and%20strong%20teamwork.
https://www.microsoft.com/en-us/microsoft-365/blog/2012/08/08/trust-in-the-workplace-what-does-it-mean-to-you/
https://www.indeed.com/career-advice/career-development/building-trust
https://blog.smarp.com/trust-in-the-workplace-why-it-is-so-important-today-and-how-to-build-it