The greatest advantage, arguably, for having marketplaces for contractors is that it fosters healthy competition. It is a good old free-market tenet where superior goods and services get selected over inferior ones. If you subscribe to this view like those who do the valuations for Decacorn companies, then it is time to monitor the gig economy. Why? If it continues and grows, there may be things that will get phased out.
2022 Business Trends: Challenges, Strategies & Goals
Business leaders continue to note that talent issues, supply chain and inflation concerns are challenges across all industries. We offer perspective into the business landscape over the last 12 months and expectations for the new year, specifically focusing on the changing business environment, performance and strategies, as well as key business topics for the coming year.
While many businesses saw significant growth over the past two years, in 2022 U.S. businesses overall have returned to a strong year-over-year growth following stagnant or declining growth during the pandemic. Recovery is well underway across all industry segments. The economic outlook has risen above pre-pandemic levels and for some businesses, expansionary activity has resumed.
Top Business Challenges
According to the National Center for the Middle Market, top challenges include supply chain, finding and retaining talent, and customer engagement. The way we work now with more of a hybrid workforce has redefined what the employee experience looks like. Customer engagement and how we interact with our customers has evolved. Growth opportunities are dependent on how we solve these challenges, and digital transformation will likely be one solution. We've seen rapid change during the pandemic, and new challenges are necessitating optimization within companies.
"Companies with employees working from their homes in states across the country need to be aware of how this impacts their state tax filings. If you have a team member working remotely in a state where you don't already have employees working, you could be required to start withholding payroll tax on that employee's wages in the state where the employee lives and works. Also, this payroll may require you to begin filing income and/or sales tax returns in the state where you did not previously have nexus and a filing requirement."
BEN CARVER, CPA, SHAREHOLDER, TAX
Supply Chain
The worldwide interdependence of the supply chain was illustrated during the pandemic and has become a top challenge for businesses. Supply chain disruptions have negatively impacted growth due to strong demand coupled with COVID-related supply disruptions. When people were stuck at home, they slowed spending on discretionary items, such as restaurants, entertainment, and other services, and more money was spent on food and consumer goods.
On the supply side, China, the manufacturing capital of the world, temporarily shut down regions and ports. We expect the demand to return to more normal levels in 2022, and supplies should improve as COVID recedes. However, the semiconductor shortage is believed to be harder to resolve and will likely continue through 2022. Demand for goods that use computer chips will remain high, and the prolonged shortage has driven up prices of goods and made some items nearly impossible to buy. At this stage, Intel, Samsung and TSMC have announced plans to build chip plants in the U.S.; however, these kinds of facilities can take years to open and will not likely change the situation anytime soon.
As companies move from efficient to resilient supply chains, this will depress growth over time. While deglobalization has been occurring for several years, the pandemic increased the speed. Nations are setting up industrial policies to protect the supply chains of companies headquartered in their domain, and policies are meant to ensure that key inputs, such as semiconductor chips or rare earth metals, for example, are not being held hostage by the nations that control those inputs.
These policies are accelerating the trend for Western companies to re-shore and diversify their supply base. Diversification won't occur overnight, and China has the greatest advantage in terms of infrastructure, skilled labor base and manufacturing know-how.
Finding and Retaining Talent
Labor shortages are impacting company growth, making finding and retaining talent a top challenge in 2022. According to world economists, this trend is largely the result of a more selective workforce. In a survey conducted by SHRM (Society for Human Resource Management), nearly 90% of 1,200 employers said they were struggling to fill open positions in 2021, and 73% said they're seeing a decrease in applications for those hard to fill positions. Three million U.S. workers retired during the pandemic, noting COVID-19 and health concerns as a primary reason. For younger workers, financial payments from the government allowed them to delay their return to the workforce and be more selective in what jobs they would take. We expect that these younger workers will return to the workforce at a more normal level in 2022.
During the pandemic, training for skilled trades came to a halt due to the hands-on nature of learning. These vocational schools are back in session, and the need for these types of workers will be high in 2022.
Business Performance/ Strategies
Business performance and strategies for 2022 are primarily focused on sales and profitability, capital spending and mergers and acquisitions (M&A). A hot topic for the coming year will likely be around M&A. We continue to see much activity in the M&A space across industries, especially with our clients in the technology and healthcare sectors.
Sales & Profitability Strategies
The top strategy for profitability revealed in our survey was improving productivity and efficiency, followed closely by decreasing operating expenses and technology improvements. It's common to see business leaders focus on the things they can control and offer less risk. Therefore, it's no surprise these are at the top of the list.
At the beginning of 2021, executives were more interested in selling existing products to existing markets, confirming a lower risk strategy. With increased confidence in 2022, this could present a great opportunity for companies should they want to shift the risk from low to high and get into those new markets or offer new services to existing markets.
Many of our clients are learning to do the same thing in new ways, bringing increased focus to existing markets and customers, whether that's by location, how they connect or how they deliver their services. Some of these shifts were out of necessity, such as new telehealth services that many of our healthcare clients have implemented. Telehealth allows physicians to serve patients through voice or video calls instead of the traditional in office face-to-face visits. This strategy focuses on existing markets and customers with the same outcomes, but with a different way to connect and deliver services.
Capital Spending
The largest driver of business capital spending is economic growth, with additional impacts from high labor costs and low interest rates. Companies are being pushed into expanding their investments in 2022 due to supply chain demands and labor shortages. Companies are looking to spend, with many of them having plenty of cash on hand resulting from Payment Protection Program (PPP) funds or CARES Act advances and forgiveness.
Many of our clients were being conservative with funds through the pandemic. Supply chain demands and long lead times potentially restrained spending. However, as we enter 2022 with these funds being forgiven, businesses are looking to spend their cash in more effective and efficient ways. Many of them have labor shortages which are driving them to invest in more computers, technology and machinery to automate processes and enhance efficiencies.
We've also seen more companies purchasing equipment in an effort to repatriate manufacturing and supply chain demands. One example could be that the business has a product that's 98% complete, but they are missing one piece, such as a computer chip. We see businesses proactively regaining some control by bringing that last piece onshore to navigate the supply chain issues making shortages, transportation issues, or shutdowns from other countries irrelevant.
High Growth versus No Growth
It's not a surprise that high growth companies are leading the way in capital spending. What is surprising is that in these difficult times, marketing is top of list just ahead of acquiring new locations and/or new facilities. While marketing was more likely to be cut from the budget in the past, brand awareness has become very important for high growth businesses today. By cutting marketing and public relations, these companies run the risk of potentially damaging the demand for their products and services.
We have seen this firsthand as a high growth accounting and consulting firm. In the last few years, we have been very intentional about enhancing our marketing spend to elevate our specific marketing technology efforts as well as go to market segment needs. We've also been purposeful with a keen focus on building brand trust with both clients/prospects and talent needs with the expansion of our Corporate Brand and Employer Brand initiatives.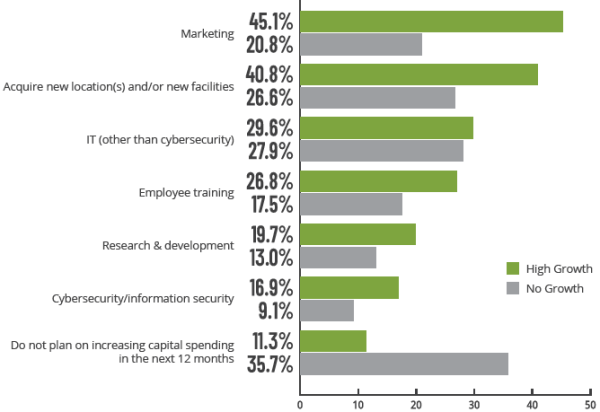 Areas in Which Increased Capital Spend is Anticipated
Mergers & Acquisitions
Stock prices have been strong, financing has been cheap, and corporate balance sheets have ample cash from PPPs and CARES Acts funding. These factors have set the stage for profitability strategies and capital spending to be highly focused on expanding business. This has mostly come by way of merging with or acquiring a company or a portion of a company.
Many businesses are making strategic moves, whether it's merging, selling, acquiring, or listing as an IPO. It should not come as a surprise that private equity groups have capitalized on this trend in 2021. Private equity exit activity in the U.S. has already notched record annual deal value through Q3 2021.
Marketing
Spend on social media will increase.
The leading social media platforms have billions of users between them, so it is no surprise that social media has been a growing target for marketers. That rapid growth won't stop in 2021. Estimates from insurance firm Finaria suggest that social media ad spend will increase by 15% in 2021, growing the total spent on social media ads to $105 billion. That's nearly double the $54.4 billion total social media ad spend in 2017.
"Year over year, we're seeing spend on social media increase – and this year it was a dramatic increase," said Ari Zoldan, CEO of Quantum Media Group. "Everyone was forced to pull back on traditional brick-and-mortar marketing. They were forced into digital, and many of them see that it is working really well.
While social media advertising is increasingly important, it is increasingly competitive. Small businesses should focus on a multichannel organic approach to build an audience and brand awareness. While ads can bolster organic growth, small businesses should avoid getting into a social media arms race with competitors when organic approaches like content marketing could have a better return on investment.
Paid placement advertising will increase in traditional media outlets.
From 2012 through 2019, spending on paid placement advertisements in the U.S. grew from $4.75 billion to $11.44 billion, and that trend is only going to continue in 2021, Zoldan said. Additionally, the line between sponsored content and non-sponsored content is likely to blur, since audiences clearly prefer authenticity to an advertisement, he added.
"I think we're going to see a lot more paid placement in traditional media, because it is really hard to get earned media," Zoldan said. "Paid placements are going to be very immersive and very video-centric; it will be hard to tell the difference between paid and earned."
Multimedia spend will generate better ROI than conventional press releases.
In part due to the difficulty of securing earned media, Zoldan said, press releases are becoming less effective. Brands are likely to bring press releases in-house and produce video announcements of newsworthy company developments rather than send text-based releases to media outlets in hopes they will be published.
Augmented reality and virtual reality come into their own.
Augmented reality (AR) and virtual reality (VR) have been in the zeitgeist for some time now, but 2021 might be the year they break new ground in terms of business adoption. Best of all, small businesses could take the lead on the trend.
"Virtual and augmented reality allow us to experience the world in a different way. And especially during a pandemic, it's extremely powerful," said Joe Apfelbaum, founder and CEO of B2B marketing company Ajax Union. "If you want to go to networking events, you can go to VR networking events happening right now. You can create trade show exhibits that are VR and AR experiences in an affordable way."
AI and big data will drive personalization.
Other technologies businesses can't get away from are artificial intelligence (AI) and data analytics. These two technologies are a match made in heaven that allows businesses to not only collect massive troves of data, but use machine learning to make sense of that data. The insights businesses gain in this way can be used to better target marketing campaigns or find new efficiencies in internal processes.
"For example, this call is being transcribed by AI," Apfelbaum said during an interview with Business News Daily. "If I say 'action item', it will automatically take action items. If I say 'fifty dollars,' it will automatically create a section for money we're mentioning."
"Depending on what your business is and what you're looking to accomplish, you can leverage AI and automation in a very affordable way," Apfelbaum said. "You can just get one personal business license for a lot of the tools out there."
Small businesses will drive new tech adoption.
"If you're a small business and some new tech comes out, you can implement it immediately," he said. "A big company has to test and test, and by the time they test and set everything up, they don't want to change it again because they've invested so much."
That ability to be nimble and adapt to developing technology gives small businesses an edge, and that's why it will be small businesses that drive mass adoption of technologies like AR/VR and machine learning in 2021.
Did You Know? Developing technologies like AR, VR and AI will start to be adopted by mainstream businesses and consumers. Small businesses will be important in driving this mass adoption.
Human resources
The world of human resources could be in for some significant changes with the changing of the guard in the White House, said Aaron Holt, a labor and employment attorney at Cozen O'Connor. This could result in policy changes impacting businesses of all sizes.
The federal minimum wage will be increased.
"Right now, it's $7.25, and [the] last time [it was] amended was 2009," Holt said. "The Biden administration talked about [a] $15 minimum wage, which would be a substantial increase. Whether they go through with that level of increase remains to be seen, but I would expect some sort of raising of the minimum wage."
Federal paid leave could become law in 2021.
Amid the pandemic, the call for paid family and medical leave has been greater than ever. Recently, with the passage of the Families First Coronavirus Response Act (FFCRA), the federal government extended the Family Medical Leave Act (FMLA) and the unpaid leave it provides. However, that could soon become paid leave, Holt said, especially if Democrats take control of the Senate.
"The other big piece we see coming based upon what has been said in Biden administration is some type of new paid leave laws. Biden was pretty vocal about that throughout the pandemic," Holt said. "I would expect for Biden, especially if Democrats control both houses of Congress, to try and pass some type of codified paid leave at the federal level.
OSHA will step up pandemic-related enforcement.
Many small businesses might not have heard much from the Occupational Safety and Hazard Administration (OSHA) last year, but that is likely to change in 2021. Holt said small businesses should ensure they have the required safety protocols in place in preparation for increased monitoring.
"During the pandemic, OSHA has been relatively quiet as far as enforcement actions or aggressive investigations, or mandating compliance with pandemic-related safety precautions," Holt said. "I would expect that the Biden admin is going to change that. I would expect to see much more forceful guidance and active enforcement from OSHA, both at federal and state level relative to pandemic restrictions."
"The best thing to do is monitor the CDC guidance to what businesses should do to protect themselves, employees and customers," Holt said. "Also, make sure you're checking state and local ordinances. County officials or state officials impose lockdowns or requirements on businesses, and it is incumbent upon employers in that geographic area to comply with those ordinances. If not, there is usually some type of penalty that can be assessed."
Small businesses will need a COVID-19 vaccination policy.
As the COVID-19 vaccine becomes more widely available, businesses will need a policy on how to address vaccination requirements. Entrepreneurs should begin crafting a policy now, Holt said. Consult with an attorney to ensure all local, state and federal regulations are followed when developing your policy.
Tip: The change in presidential administrations will come with changes in the minimum wage and paid-leave regulations. Small businesses should also be wary of stepped-up COVID-19 regulation enforcement and consider developing a vaccination policy.
"Once the vaccine becomes more generally available, employers are going to be faced with [the] decision as to how they deal with that in [the] workplace. Are they going to require it? Recommend it? Incentivize employees to get it?" Holt said. "Getting those policies and practices drafted and tweaked, and making sure they match operational needs of the business now is going to be important, especially for SMBs that won't have an HR department."
Get on the Influencer Marketing Train
Influencer marketing is like celebrity endorsement prevalent in the age of mass media. Instead of just gunning for movie stars or musical artists, marketers place their products on social media channels and other digital touchpoints like podcasts of influential people in their given realm. And because of their relatively low cost and extensive market reach, 25% of small businesses use influencers for their social media marketing (Visual Objects, 2020). And this is why many SMBs are increasing their marketing budgets on Instagram.
A modern example of which are MMA fighters who are active on social media. Health and fitness brands pile up to sponsor outspoken personalities and those with fun content to help them get their products out to their target segment. Another would be marketers tying their product up with musicians to create popular how-to videos.
This approach is quite easy to do as everyone is really easy to reach nowadays. Almost everyone has a Twitter handle or a Facebook account. Furthermore, brands do not really have to go with high-profile celebrities. They can target micro-influencers or personalities who have a strong following ( Impact BND , 2019) that's within the range of a thousand to a million.
What's great about micro-influencers is that their social media channels are very active. Their followers and peers (who might also be influencers) engage more with their content rather than just view them and leave "likes." Furthermore, they are not really as expensive to do business with compared to more traditional celebrities. As such, you need to get on this wave sooner rather than later before competitors get to the top micro-influencers of your target segments. For this, you'd do well with a good social media monitoring tool to determine micro-influencers and influencers.
Influencer Marketing Highlights
Key Takeaways Concerning Small Business Trends, Opportunities, and Ideas
Trends come and go from time to time. COVID-19's worldwide impact will likely shape the new "normal," and businesses, both small and large, have no other choice but adapt to thrive and survive in these emerging trends. Also, this can be said to the same thing about small business ideas and small business opportunities. Their timeliness is dependent on the wider market forces and movement.
And sometimes when you are a small business owner you don't really get to see these market forces at play. We tend to just stick to what we ordinarily see in our own localities. However, unlike other market forces, the COVID-19 pandemic is expected to remain to dictate how small businesses should be operated. And this makes employers become very anxious about the health of their business in the new market landscape.
With the new norm shaping further into a more contact-less business environment, business owners need to be more conscious of their digital touchpoints. The pandemic, indeed, has compelled small business owners to finally roll-out their long-delayed plan to take the big leap away from offline to online operations. Current ecommerce trends offer powerful insights to facilitate that significant shift.
Authorship:
https://www.lbmc.com/blog/business-trends/
https://www.businessnewsdaily.com/7605-business-trend-predictions.html
https://financesonline.com/small-business-trends/